Northwest Decorative Concrete installs stamped concrete driveways, stamped concrete sidewalks, stamped concrete patios, Epoxy flooring, stained concrete, acid stained concrete, polished and colored concrete floors, concrete countertops. We service all of Michigan and beyond, including Detroit, Grand Rapids, Lansing, Kalamazoo, Saginaw, Flint, Ann Arbor, Traverse City, Petoskey, Bay Harbor, Charlevoix, Boyne City, Boyne Falls, Harbor Springs, Indian River, Mackinaw City, Mackinac Island and Cheboygan.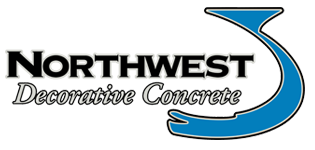 Epoxy coatings are the perfect choice for high traffic areas. They can last for 20+ years with proper maintenance, thus making them a wise choice for the owner. Though somewhat new to the restaurant industry, epoxy coatings have been used on the concrete flooring in commercial garages and other areas with heavy traffic for many years. An epoxy coating is available in many colors, as well as textures, so it is perfect for any space. Epoxy coatings have been used in high-end resorts around the globe, but are also practical for homes and offices.
Epoxy coatings seal a concrete slab under a layer of liquid plastic. It can be used in both indoor and outdoor spaces, so there is no end to the application possibilities. An epoxy coating results in a smooth, glossy finish resistant to scuffing, scratches and most chemicals. There are three types of epoxy coatings: terrazzo, garage floor epoxy coatings, and metallic epoxy coatings.
Using an epoxy floor coating over your concrete floors will create a high gloss, hard wearing, and durable surface. These floor coatings offer a number of benefits and advantages that make it a cost-effective way to protect your floors and look amazing.